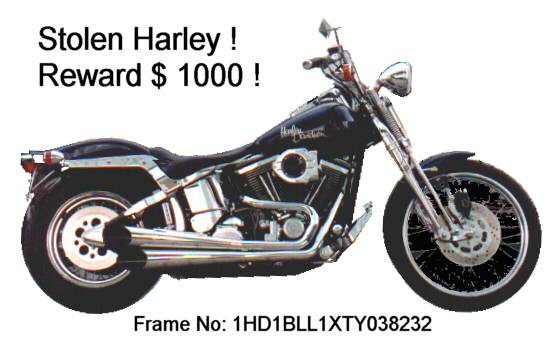 A fellow webbie just emailed me the bad news that his bike was stolen!!! Bummer! I know that a lot of you would give your right arm to catch a bike thief. Please, if you see this bike contact BlueV2@aol.com. Please pass this link around too, and maybe we can get this bike back to it's proper owner.


"In August '98 my Harley (FXSTS Springer) has been stolen due a robbery at Harley-Davidson of Naples, Florida."
Here some information about the bike:
Ident.No.: 1HD1BLL1XTY038232
Extras:
- Custompaint, BMW Midnightblue Metallic (mixed with Mica-Pearleffect)
- Frame and Rockerboxes painted in this color, too
- 4.5 Gal. tank
- Rear suspension lowering kit (White Bros.)
- 160 Rear tire (Belt)
- Kuryakyn Hypercharger
- Corbin Solosaddle
- Wide Butterfly handlebar
- Pointcover "HOG Munich Chapter" cutted and chromed
- Steelflex
- Polished brake disks
- Mini-Markers (CCI)
- Kerker Slash Cut exhaust system
- Lots of chrome
The bike has been tagged under "Blue V2 (Florida)".
Please send any hint to BlueV2@aol.com, DadV2@aol.com or the Police.
---