Hello, and welcome to Babes Place, a site full of interesting pages! Here you will find a Harley Page, a Native American Page, Free Hawg Graphics, Free Webmasters Resources, a MIA/POW page, a fun page full of laughs, and much much more! I feel sure that you will find something here to fascinate you, so bookmark now, this site is humongous!

https://members.tripod.com/~BABEonHD/

I finally have my own domain for my Harley Page! For those of you looking for my Harley Page, jump straight over to BABEonHD's Dot Com (www.babeonhd.com) for everything Harley.

I call this my home page, when in fact, it is the index page of all of my different websites. Some of these pages are complete websites. There is something here for just about everyone. Navigate my site by clicking on the links to your left.

Each site is unique. My Harley Davidson Page has Classified ads, an events Calendar, a discussion forum, pics, hundreds of links, humor, bikers stories contributed from bikers, and much more. There is also a complete site of free graphics for your own Hawg pages, and Free Bikers Personals too!
The Native American Page includes my thoughts on my heritage, lots of links, and a sound byte from part of a speech by Chief Joseph. It's a beautiful wav, and you can download it right from the page.

I also have a page up to help AOL members. If you are an AOL member, and are having problems with your graphics not showing up, click here. If you know an AOL member, and you can't see their graphics, but they can, be nice and send them to this page!

I am now offering my services for web design. My rates are low. Would you like to put your business on the WWW? You can say everything on a webpage that you don't have room for in a yellow pages ad.

There is a Free Webmasters Resources page, with hundreds of links to free webpage resources all over the net. You'll find everything you need from webmasters tools to graphics. This site is quite extensive, a must see for webmasters new and experienced.
Just for Laughs is a fun site for adults. Lots of links to the wildest and funniest sites on the web, plus a large collection of adult jokes.
Find out a bit about me by visiting Who is BABEonHD? Everything from my astrology sign to my hobbies and family.
Remember our MIA/POW's, and visit my MIA/POW website. Adopt a MIA/POW yourself, see other ways to show that they are not forgotten.

Visit Babes Scribbles to read my scribbles. Not your average pretty poetry here.

My Photo Album includes pics of me and my family, including my animals.

Crickets story is my tribute to a little dog who stole my heart, and the new puppy who helped me to heal from the loss.

I killed a Frog is a true story written in a humorous style. Read it, and you will laugh!

Visit my free links page. See who has visited my site and visit theirs. Add your own url. I visit it regularly and always visit the members page. New links page added March 22, 1999.

Then of course, I have made a special room to feature my awards and trophys with pride and gratitude. See who has awarded me, and then see if you can get one too.





You can make money with your website. This site has several ways to do it. Click on the button and sign up! It's easy and fast.



This site designed and maintained by Babe.
Visit Babe's Web Design for information about getting your business on the web.


I am a member of the One and Only Associate Network



Meet your Match! CLICK HERE to go to BABE'S PERSONALS
A Proud Member of the One & Only Associate Network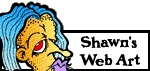 My cat on the computer caricature came from Shawn.Thanks Shawn for your awesome, professional and free web art!